Established in 1913 by two friends who dreamed of having the rare ability to represent multiple large insurance companies for their clients, Lewis, Hopkins & Williamson was introduced to the local community as one of the first independent insurance brokerages.
Based on old-fashioned relationship-building values and personal customer service, Lewis, Hopkins & Williamson began to expand its clientele to neighboring towns and states.
This is the story of that dream—a century-old dream focusing on personal relationships with clients—because we know the work we do for them is important.
Jessie K. Lewis – Founder
"

You'll never have a bad night's sleep by doing the right thing."
Jesse K. Lewis was born in Paoli and graduated from Temple University. He quickly became successful in the finance industry, which eventually led him to discover his passion for insurance. With his background and training, and his desire to use his business acumen to help guide the people in his life, insurance was an easy transition, and became his life's work. Mr. Lewis's philosophy, which set him apart from the insurance agent only looking out for his own wallet, was often reflected in a saying of his that still lives in our office today: "You'll never have a bad night's sleep by doing the right thing."
James P. Hopkins – Founder
"You do not have to be a millionaire to be sued like one."
James P. Hopkins was a graduate of Chester High School and Dickinson College.  He was well known for his activities as president of the Chester Real Estate Board, and as a director of the Pennsylvania Real Estate Association. With his relationship-building abilities and friendships throughout the Philadelphia area, insurance was a natural fit. Mr. Hopkins was driven by providing the correct insurance coverage for each specific client, and his quote is still repeated often to our clients: "You do not have to be a millionaire to be sued like one."
A. Foster Williamson – Partner
"Insurance is one of the only products that you cannot buy when you need it."
Foster Williamson was born in Upland and graduated from Temple University.  In 1926, A. Foster Williamson joined Lewis & Hopkins and became an active member and leader of the community, serving organizations that included the Delaware County Board of Realtors and The Chester Rotary Club. He genuinely enjoyed helping his clients make the important decisions to protect their future before anything happened and could be often heard over the phone saying, "Insurance is one of the only products that you cannot buy when you need it."
In 1930, A. Foster Williamson earned partnership and the brokerage became known as Lewis, Hopkins & Williamson (LH&W). 
James A. Whitcraft – Partner
"Let my family protect your family."
As LH&W's clientele increased, so did the demand for young and passionate brokers.  In 1962, lifelong West Chester resident and Gettysburg College graduate James A. Whitcraft accepted his first—and what would be his only—job at Lewis, Hopkins & Williamson. Shortly after, Jim was drafted into the U.S. Army and served in the 98th Army Band from 1963 to 1965.
Upon completion of duty, he returned to the brokerage, where Jim's love for people and the ability to connect with them enabled him to achieve his goal and become president of LH&W. Jim's wife, daughter, and son all have worked together at the agency, treating his clients like their own family. He was always very proud to say: "Let my family protect your family."
After more than 53 years of dedicated loyalty to his clients, Jim retired in 2017, but still privately consults with select clients and mentors LH&W advisors and brokers.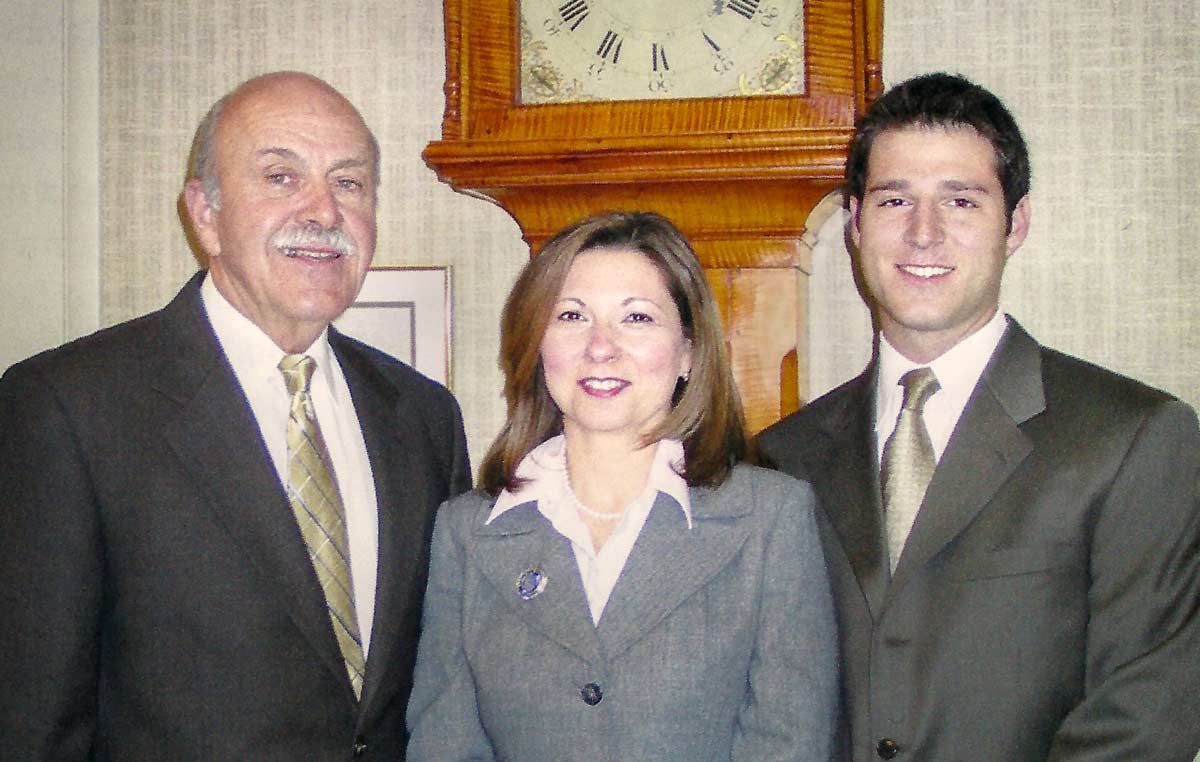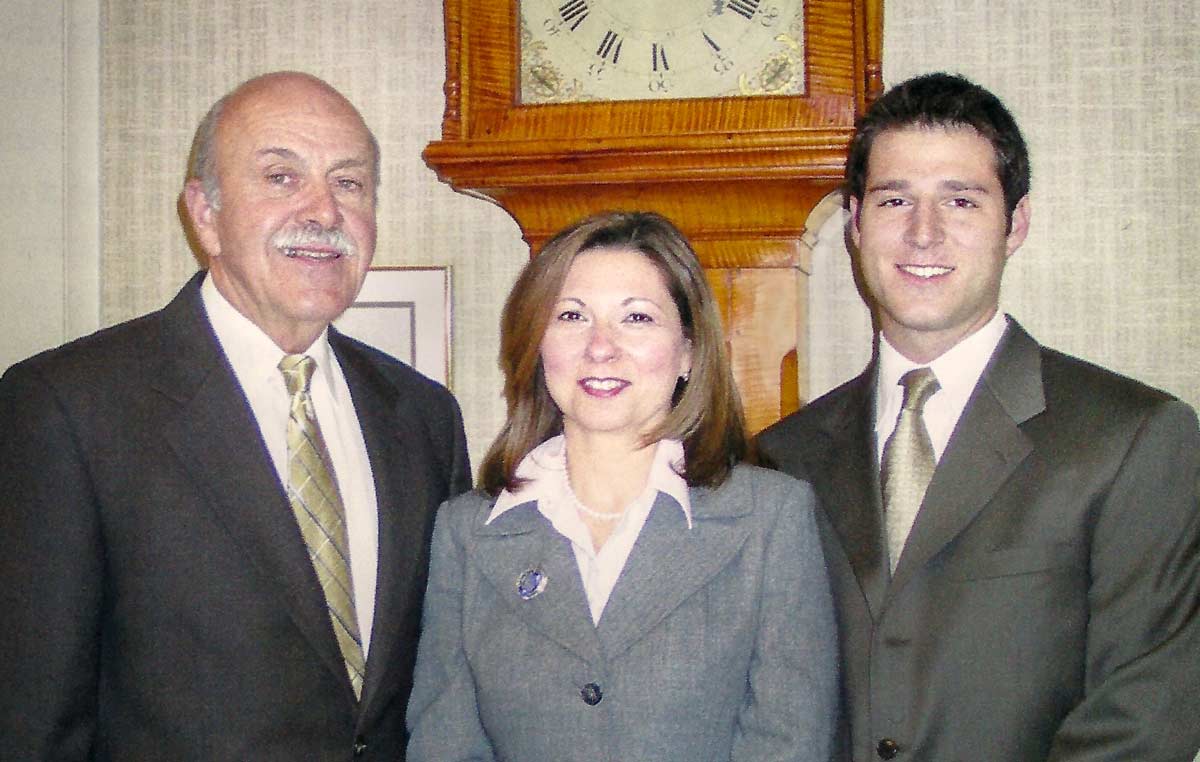 James, Madeline, Michael Whitcraft, 2005
What makes LH&W a family agency?
To be completely honest, I'm not sure I'd even exist without Lewis, Hopkins & Williamson: My father, Jim Whitcraft, was the president of the brokerage for over 45 years. Forty years ago, he hired an ambitious woman to process claims, who—after only three months of courtship, I recently learned—he would eventually marry, and who became my mother. Madeline is still the controller and accountant at LH&W.
My younger sister, Katie, worked with us for over five years building personal connections and providing customer service for clients, which would provide her with valuable experience she uses today in her current career on the insurance company side.
I grew up in an insurance family, so insurance is something that has been in my blood my entire life. I went to middle school and high school with my textbooks wrapped in insurance company gift paper, while the other students in my class used grocery store brown paper bags. That said, I didn't 'fall' into this career; I chose it.
Today, my family, and the entire staff at LH&W, only knows one way to do business, and that is to respect, listen to, and advise our clients as an extension of our family.
– Michael Whitcraft, LH&W President
There's not a lot of sitting around at LH&W. Our personal and commercial insurance clients have a few weeks (and sometimes only a few days) to complete the transaction of an asset or new business contract, which means we've got to keep their pace. We are ready and committed to work hard and take ownership to produce the best results each and every time for them.
It's about setting expectations and being more proactive than the competition. Our clients are kept in the loop through the entire process.  We are collaborative. When we are constantly coming up with new solutions for our clients, we're helping them be more successful.
Our product is our people. The one common thread we share as members of LH&W is that we love what we do, and to be great at what you do, you've got to. A mixture of the right people and over 100 years of institutional problem-solving strategies allows us to continually transform in our creative and relentless pursuit of our clients' success.